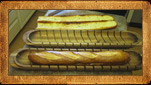 Original Garlic Bread

Broiler Method
Pre heat broiler Use 4-5 peeled cloves of garlic for every cube of butter One cube of butter per loaf of bread As the butter is melting, using a garlic press, press the garlic and add it to the melting butter. The garlic needs to cook in the butter to give it a better flavor. If the garlic is too raw, it will taste too strong. Let the mixture cook for about 5 minutes but do not let it boil.Remove from heat, add some fresh or dehydrated parsley flakes to give it just a little color and let the mixture cool. The butter and garlic will separate as it cools, so stir the mixture before using. Slice the bread in half and place the cut side up under the broiler let it toast just a little. Take it out and brush the melted garlic butter on the bread. It will soak down into the warm bread. Then return the bread to the broiler for a minute or two of toasting. Do not leave the bread unattended. It can burn very quickly. When done, it can be served immediately or made ahead of time and warmed up when needed.

Barbeque Method
The making of the garlic butter is the same but the cooking is different. On the barbeque, bread is placed cut side down and toasted first. Remove the bread and brush the garlic butter on the toasted bread. Then return the bread to toast the bottom (Don't Place bread garlic butter side down).

Storing garlic butter
Garlic butter can be made in large batches to have on hand. If you make a pound of garlic butter, as it cools the butter and garlic will separate. Let it cool until it starts to get thick, then stir it so all the garlic and butter are uniformly mixed. It can be stored in the refrigerator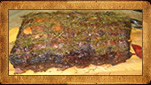 David's Prime Rib Roast

Ingredients:
1 whole prime rib roast (7 bone, about 18 - 20 pounds), tied
12 to 16 cloves garlic, cut into slivers
8 sprigs fresh rosemary (you can use dried)
2 - 3 tablespoons black pepper
2 –3 tablespoons dried rosemary
2 –3 tablespoons cayenne pepper (you can use different hot pepper here or omit)
2 –3 tablespoons salt (a coarse salt is better)
Preparation:
Prepare grill for indirect grilling with a large dripping pan under where the roast will be. Periodically add water to the pan to keep the drippings from burning away if you want to make gravy. Make sure you know the weight of your prime rib. Plan on grilling indirectly for 12 to 14 minutes per pound. If you are using a smaller roast, adjust the ingredients and cooking times accordingly.
With a sharp paring knife make a series of 1/2 inch deep holes every 2- 3 inches all over the roast. Insert the garlic slivers in holes put a leaf from the rosemary under the strings across the top of the prime rib about 2 inches apart. Combine black pepper, dried rosemary, salt and paprika and rub over the surface of the meat. When the grill is ready, place the roast on the well oiled grate directly over the dripping pan. Cook for about 12 to 14 minutes per pound. An 18 pound roast will take about 3 1/2 to 4 hours. It is very important to use an accurate meat thermometer to check for doneness. You do not want to over cook this roast.
When the meat reaches an internal temperature of 115 to 125 degrees remove it from the grill. Place it on a platter and cover loosely with foil. The meat will continue cooking and the internal temperature will continue to rise. Let rest for at least 15 minutes, but no more than 30. If you want the roast rare to medium rare, remove from the grill when the temperature is 115 degrees and let it rest for 15 minutes. If you want it more well done, remove from the grill at 125 degrees and let it rest for 30 minutes.
This recipe can also be done on a pellet BBQ or home oven. Rule of thumb is about 12 – 17 minutes a lb. Fist 15 minutes at 500 degrees then finish at 300 – 325 degrees. Enjoy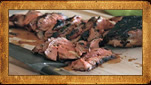 Lamb BBQ Marinade

This makes 1 gallon plus

4 bunches of fresh parsley
3 tbls thyme
2 tbls salt
3 tbls oil
½ cup catsup
12 oz of wine vinegar
1 gallon sauterne wine (white)
8 oz tomato paste
In a food chopper put ample amount of fresh chopped garlic and fresh rosemary together (there is no such thing as too much). Blend all ingredients together (hand held bamex works) Marinate lamb in layers putting lamb in a deep pan. Put 1 layer of lamb, sprinkle marinade, salt, pepper, fresh garlic and rosemary. Repeat process for each layer. Marinate lamb for 24 to 36 hours before cooking (no less).
Can also be used as a marinade for other meats


3 cloves garlic, minced (about 1 Tbs.)
2 tablespoons canola oil
3 large baking potatoes
1/2 teaspoon salt, plus more to taste
Cooking spray
1 tablespoon finely chopped fresh flat-leaf parsley
1. Preheat the oven to 450 degrees F.
2. Heat the garlic and oil together in a small saucepan over medium heat for 2 minutes. Strain the garlic from the oil with a small mesh strainer. Set both garlic and oil aside.
3. Cut the potatoes into 1/4-inch-thick matchsticks. In a large bowl, toss together the oil, potatoes, and salt. Coat a baking sheet with cooking spary and spread the potatoes on it in a single layer. Bake until golden and crisp, about 35 minutes.
4. Remove the potatoes from the baking sheet with a metal spatula. In a serving bowl, toss them with the parsley, reserved garlic, and salt to taste. Serve immediately.


2 tablespoons olive oil
2 tablespoons unsalted butter
4 cloves garlic, finely chopped
1/8 teaspoon plus 1/4 teaspoon salt
1 pound frozen bread dough, thawed
1. Heat olive oil and butter in a 10-inch skillet over medium-low heat until butter is melted, 4 minutes. Add garlic and 1/8 teaspoon of the salt. Cook 3 to 4 minutes. Set aside.
2. Roll out thawed dough to a 12 x 10-inch rectangle. Cut crossways into 12 strips, then in half lengthwise, for a total of 24, 5 x 1-inch strips.
3. Tie each strip into a knot, stretching dough slightly. Transfer dough knots to two large baking sheets (12 per sheet). Sprinkle with remaining 1/4 teaspoon salt. Cover with a clean towel, and leave in a warm place to rise for 30 minutes.
4. Heat oven to 375 degrees F. Uncover knots, and brush each with a little garlic butter. Bake at 375 degrees F for 20 minutes, rotating pans halfway. Once baked, immediately transfer to a large bowl and toss with remaining garlic butter.


Roasted Portabella & Garlic Sandwich


1 head garlic, loose papery skins removed
1 teaspoon plus 1 tablespoon olive oil
4 medium portabellas, stems removed, caps wiped clean with a moist paper towel
Kosher salt
2 medium shallots, finely chopped (to yield about 1/4 cup)
1 clove garlic, finely chopped
1 teaspoon chopped fresh thyme
1 tablespoon balsamic vinegar
Freshly ground black pepper
8 slices country-style bread, about 1/2-inch thick, or 4 really great quality rolls
2/3 cup grated Monterey Jack
About 1 tablespoon chopped fresh flat-leaf parsley
1. Heat the oven to 450 degrees F. Lay the garlic on a square of foil. Drizzle 1 teaspoon of the olive oil over the top. Bring up the sides of the foil and wrap up the garlic. Roast until tender, about 40 minutes. Squeeze the garlic pulp out of the skins and into a small bowl; mash the pulp with a fork.
2. Rub the portabella caps all over with the 1 tablespoon olive oil and sprinkle with salt. Put them, gill side up, in an ovenproof pan. In a small bowl, combine the shallots, chopped garlic, thyme, balsamic vinegar, and salt and pepper to taste. Sprinkle the mixture evenly over the portabellas. Roast (you can do this at the same time as the garlic) until the mushrooms are tender and browned, 20 to 30 minutes. Remove the portabellas from the oven and set the oven temperature to broil.
3. Toast the bread slices on both sides under the broiler. Spread each slice with some roasted garlic puree; sprinkle with salt and pepper. Top four of the slices with a portabella; put them on a baking sheet. Sprinkle the cheese over the portabellas and return them to the oven to melt the cheese. Top with the parsley and another bread slice to make a sandwich.